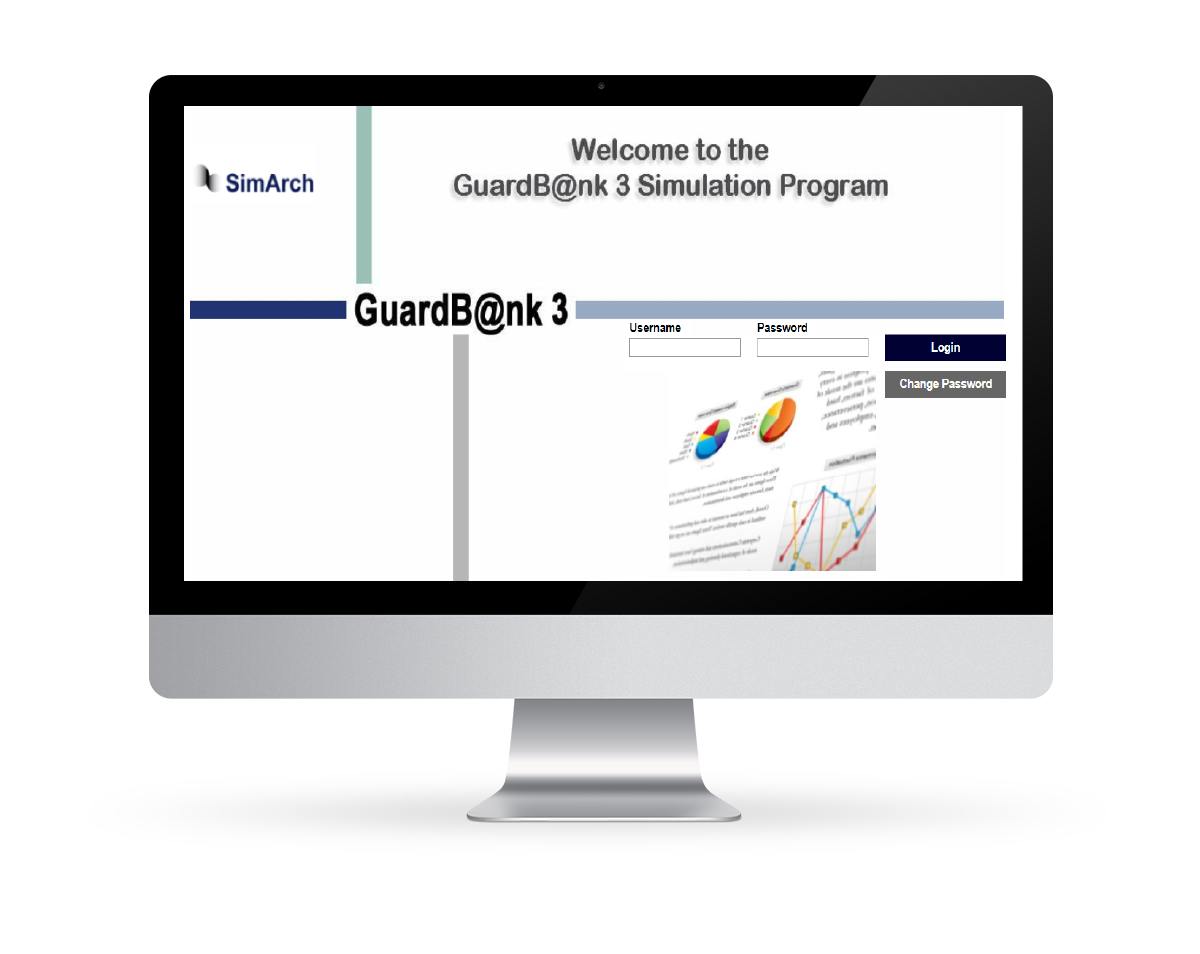 BUY NOW
Balance sheet management
Volatile global markets, changing business models as well as an increasing regulatory environment have made Asset Liability Management (ALM) a critical function for banks and financial institutions today. Capital Management together with Liquidity Management is at the forefront of the financial landscape. It is therefore increasingly important to define, measure, monitor and manage an institution's exposure to all types of financial risks on a coordinated and consistent basis.
The GuardB@nk 3 Asset & Liability Management Simulation Program has been designed as a practical tool to enhance the ability of practitioners to deal with the complexities involved in the management of the Balance Sheet of a bank.
ALM Practitioners, Treasurers, Risk Managers as well as personnel from Finance benefit from being exposed to making decisions in a highly competitive and volatile environment, whilst interacting with the simulator. Several scenarios are encountered, such as capital constraints, lack of liquidity, deteriorating business conditions as well as a changing regulatory environment.
Subscription: 12 months
Duration: 12 hours (typically 3 hours per financial quarter)
Level: Intermediate
Available language(s): English
Compatible browser: Google Chrome
At the end of having managed the balance sheet of a full-services virtual bank for an entire financial year, participants will:
Gain an understanding of the Asset & Liability Management (ALM) Process in the bank
Recognize and understand how the key focus areas of ALM affect day-to-day decision-making in the bank
Have an enhanced ability to identify and analyze a bank's exposure to the Key Sources of Financial Risk
Identify the various strategies and frameworks a bank employs to control risks within specified limits
Better interpret the Balance Sheet of their bank as well as being able to identify the key drivers of performance
Exposes participants to the challenges of risk management strategies, corporate governance and business ethics
GuardB@nk 3 is an ideal tool for developing the business acumen of personnel active in the following core functions:
Treasury
Asset & Liability Management
Risk Management
Finance
ALCO members
After having successfully completed four financial quarters, a certificate of completion will be made available via the simulation as well as sent by email.
During each quarter there are different areas of focus.
Quarter 1: Capital Management
Quarter 2: Liquidity Management
Quarter 3: Credit Risk Management
Quarter 4: Return on Equity
The successful completion of the ALM simulation is equal to 8 CPE credits.